Land the Perfect Gig in 5 Easy Steps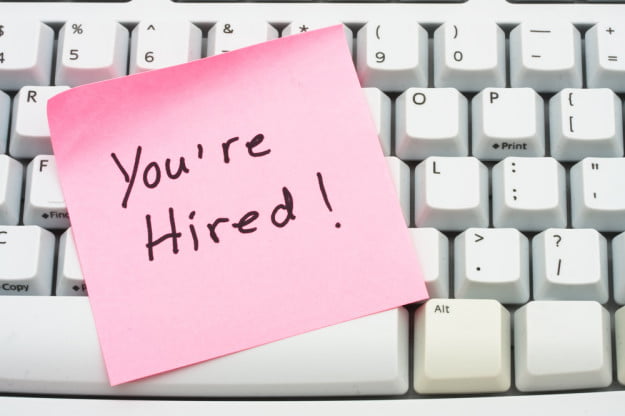 The economy is humming along and you're thinking about finally activating your passive job search. Employers are hiring but you want to make sure your next move is the right one for your career. Here are a few tips that might be helpful as you prepare to take the leap.
Write down a wish list for what you need in a new role and/or a new organization. Once you have a solid idea of what you want, you'll be able to identify the right opportunities that align with your essential requirements. Make sure you understand clearly why you're looking for change. These reasons will help you populate the wish list. You may have a nightmare for a boss, are underpaid or both, but make sure you take a holistic inventory.
Adjust your resume to accommodate the job posting. If you can switch words listed in the job posting with synonyms from your resume, make the switch! If your experience aligns with the requirements of the job, tweak your resume to resemble the verbiage within the posting. It's OK to have different versions of your resume as long as you are truthful in what you did. It's all about context and employers are looking for specific skillsets, experience and traits. Make sure yours get seen if you feel strongly that your history aligns with the job.
APPLY! APPLY! APPLY! Just because you applied to your dream job doesn't mean you can sit back and wait for next steps. Keep applying to other roles in an effort to increase your chances of obtaining meaningful employment and give you more opportunities to make new connections and practice interview skills.
Know your story! Socrates wasn't joking when he said 'Know thyself.' Be able to have simple explanations of job changes, short employment stints and viable reasons for why your career path led you to where you are today. Synthesize your experience into a powerful narrative. What did you learn? Build? Achieve?
Interview your interviewer (respectfully) – The power has shifted. Candidates, more times than not, are in the power seat. Ask questions to ensure the job you are interviewing for is worth the time, energy and your emotional/intellectual investment. Good employers like thoughtful candidates with options. If someone is trying to be all things to all people and has no questions for the employer, they come across desperate or lacking consideration and foresight.
—
Chris Cottrell is a Talent Sourcing Manager for Careerlink, Omaha's only local job board. Chris' role is to build relationships community-wide in an effort to identify and highlight the talent within Omaha's workforce and guide them to appropriate Careerlink partners. Chris' role also includes consultatory services to both candidates and businesses seeking customized advice to fit their particular needs. Chris is also an adjunct for Bellevue University within the field of Talent Management, an active member of the Greater Omaha Chamber Engagement Counsel, a Board Member of the Bellevue Offutt Rising Professionals (BORP) group as well as Bellevue University's newly launched Hospitality Management program. Chris prides herself on authenticity, follow-up and building relationships through the sacred art of sarcasm.