Omaha organizations working to build community through opportunities for youth in tech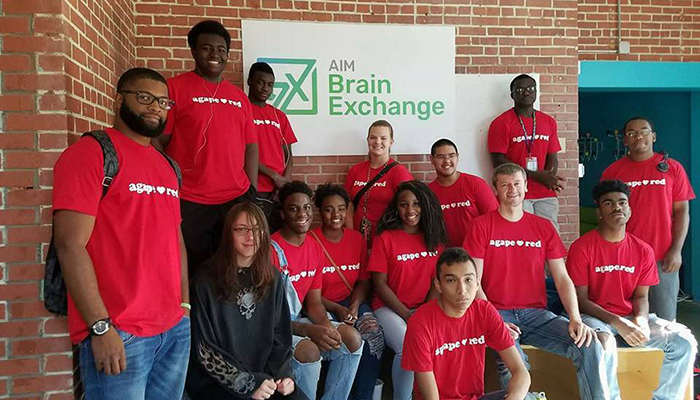 (Photo: Seventy-Five North students at the AIM Brain Exchange, July 26,2017.)
OMAHA — Organizations around the country and here in the Midwest struggle with complicated questions around how to reach and serve disconnected youth with pathways into the workforce.
But there are numerous efforts underway right here in Omaha to connect youth with educational and employment opportunities. Making those connections was the focus of a recent podcast where speakers outlined their approaches — among them, Shonna Dorsey, AIM's Vice President of Business Development and Tech Talent.
Dorsey was one of three speakers on the "Youth Worker Power Training" podcast presented by Workforce 180. She told listeners from around the country about community-wide youth-in-tech initiatives here Omaha, and the opportunities being created here for young people outside traditional paths.
"There are high paying jobs you can get in tech that don't require a college degree," said Dorsey. "I never dissuade people from pursuing advanced degrees, but when you have kids like disconnected youth who are really anxious to be doing something interesting, and something that is high-paying and valuable to them, a career in tech is a space where they can get started."

Dorsey told listeners about community-wide efforts to bridge the gap between the tech workforce and underserved communities, especially young people.
"We definitely need to make sure youth feel connected to opportunities in this community," she said.
One organization working toward those goals is the Heartland Workforce Solutions Youth Council, which coordinates efforts among youth-centered agencies, area training providers, employers and other agencies that provide supportive services.
"We all come together to discuss ways in which we can provide a more connected and easy-to-navigate process for people who come into our system," Dorsey explained.
Dorsey also told listeners about AIM Brain Exchange North, an accelerated web development training program based in areas of Omaha with the lowest average household incomes, where unemployment rates soar above the city average.
For example, in Omaha's 68110 zipcode, the unemployment rate is 17.6 percent; in 68111, the rate is 12.7 percent, according to the Nebraska Department of Labor. The average unemployment rate for the Omaha metropolitan area is 3.1 percent.
Brain Exchange North typically accepts 10 to 15 students and takes them through a seven-week program that meets daily.
"During that seven weeks, they are meeting people from the community, employers who are interested in diversity and inclusion and who want to let these kids know that there are opportunities for them," said Dorsey.
At the end of the program, Dorsey says there are opportunities for participants to be interviewed for internships.
"They are able to develop skills at a foundational level over the summer, and then be connected to an employer who has an open internship so that they can continue to build on their skillset," said Dorsey.
One of the goals is to make tech training opportunities more readily accessible.
"We know for sure that having those supportive services and making it easy for people to access them is critical," said Dorsey. "We're looking at our process and saying, is it easy for someone to come into this and know what to do next and navigate it, and get the development plans together that they need to be successful? That's what we're working on right now. It is an evolving process."
The hope is to build a thriving, growing community by connecting young people with opportunities they may not have otherwise had.
"We have a talent retention issue, so we are thinking that the younger we start, the more likely it is that we can keep them here," said Dorsey, "We want them to feel supported in this community, no matter which zipcode they live in."
For more information about Brain Exchange North, contact Shonna Dorsey at sdorsey@aiminstitute.org.