Advice on considering a new career from an Omaha HR director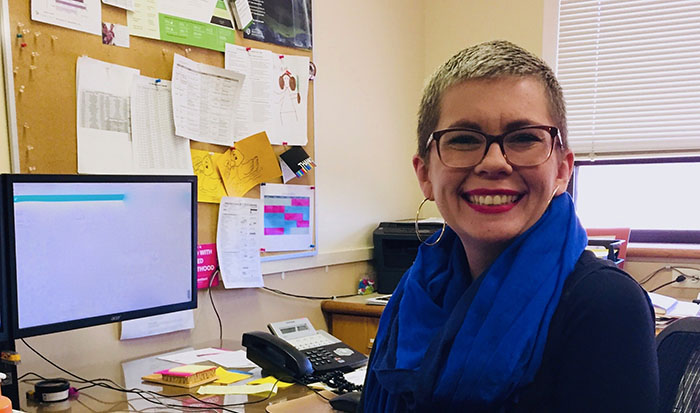 Marti Carrington is an experienced human resources manager with a lot of practice navigating big changes within an organization.
But not long ago, she found herself navigating questions about her own career. 
In this interview, she talks about her own recent switch from the corporate to the non-profit world and offers her advice to others thinking of making a big job change.
Carrington worked at Union Pacific in Omaha for 17 years, starting as a train dispatcher, and working her way into a series of legal and human resources roles. She says she loved them all, for the most part.
"I loved my team, I absolutely loved managing people," said Carrington. "Loved coaching them, loved getting the best I possibly can out of people. I had an amazing team."
But as time went on, growth came with limits, and she questioned if she was in the right place to keep branching out.
"I'm not necessarily built for corporate-structured, corporate America," said Carrington." And that's not a bash on UP. But the bureaucracy that comes with an organization of that size, the politics that come with it, those things just exist in a big organization. It doesn't speak to me."
Marti says she spent a fair amount of time going back and forth on whether she wanted to leave, and if so, for what? A non-profit? A smaller company?
"I tried to narrow it down to organizations that have a big impact," she said.
Then, she heard of an opening for a human resources director at Lutheran Family Services.
"It was perfect timing that LFS was looking for an HR director," said Carrington. " I was ready to make the move; it was perfect timing. All the pieces fit together."
Now Marti does the full spectrum of human resources management, with fewer layers of bureaucracy, and more responsibility.
"Every single part of HR," Carrington described, "from policy and employment law to benefit administration, recruiting, onboarding, all the employee relations stuff."
She has been at Lutheran Family Services for nine months now and says the differences between her current and past job are significant.
"I would say the difference, here in the non-profit, is way fewer people. I feel like I get to develop a closer relationship with the employees and the leadership team," she says.
Carrington has advice for people thinking about switching jobs and/or careers.
First, find a trusted person to have honest conversations with. "You have to have a trusted person you can talk to about it," she says.
Then, narrow down what you are trying to get out of a possible move. Are you moving for the sake of moving? What is your end goal, what are you trying to do?
Know your bottom line when it comes to salary and compensation, and stick to it.
"This is absolutely the least amount of money I'm going to take, and if I can't get that job at that amount of money, OK, I'll stay where I'm at. I think it's important for women especially, going into jobs, we have the idea or perception of, OK, I'll take what they offer me. And I think young women are getting better and better at it, but it can be a trap. We can just trap ourselves into, I'll just take what they give me."
Find tools for self-evaluation, and do as many as possible. Know your strengths and weaknesses. There are many free assessments available online, and Marti says even if some of those tools, like Gallup Strengths Finder or Emergenetics come with a cost, it could be worth the investment.
"Do one of those assessments, figure out those strengths and find something that utilizes those strengths," she says.
When you do find a position that looks like a good fit, go for it — even if you aren't sure you have everything the job listing asks for.
"Sit down with someone and go through the job description and think about what you bring to it. I think a lot of people undersell themselves. You don't have to have 100 percent of the qualifications to jump into a new job," she says.
Marti says, from her side of the desk, it's exciting to help someone grow professionally — especially given her own experiences of questioning those next steps.
"One of my favorite things to do is help someone create a development plan, and to watch them make incremental improvements, that's amazing," she says. "It's a responsibility of leaders. If you see someone succeed, it's awesome."