Kids build broader horizons at AIM Brain Exchange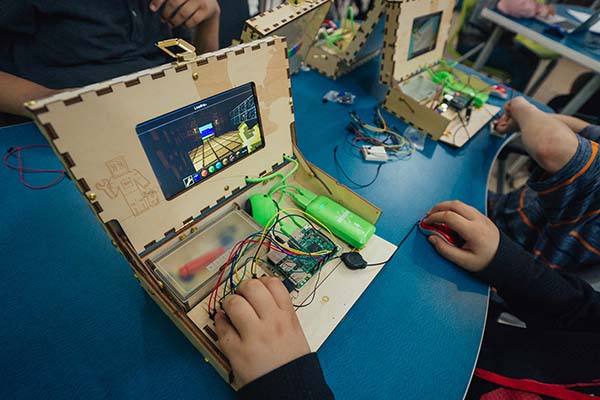 OMAHA  — A year ago, if you would have asked a group of 6th graders at Liberty Elementary School if they ever thought they could build a computer, they might have given you some strange looks.
Today, they would give you instructions.
"You screw everything in, wire it in, put the buttons in," 12-year-old Da'Shawn explains.
"When you start, you have to get the manual, and when you start to put it together, you can see how cool and how amazing it is to just take the different pieces and put them together," says Octavio, also a 12-year-old Liberty student.
Da'Shawn, Octavio and their classmates have been learning about putting computers together at the AIM Brain Exchange with Piper Computer Kits. The kits come with blueprints and buttons, switches and circuitry, and it's up the kids to bring it all together.
The kits are just one of several activities at the Brain Exchange that are geared toward getting kids excited about tech.
"Every time we come, they are just so excited to see what new things that they have planned for us," says Liberty 6th grade teacher Jenni Ortman. "If we ever have to miss, they are super devastated that they can't go to Brain Exchange for whatever reason."
Sylvia, 11, likes working with Dash and Dot robots, which are programmable robots kids control through Android and iOS apps. She has also been learning how to work with video in iMovie.
She says she's excited about each new activity she takes part in.
"I really like all of them. They involve a lot of teamwork, a lot of construction and steps, and the staff are really helpful," says Sylvia.
Sylvia says she looks forward to learning more about technology and says when she gets older, she would like to study robotics.
"It's really fun and exciting," says Sylvia. "If someone would have told me I'd be doing this, I would be like, I would never be able to do this."
(Photo: Sylvia, Da'Shawn, Juan.)
Octavio also says he wants to pursue a career in technology, possibly as a game designer. In the meantime, he likes the hands-on activities he gets to try.
"I love to build and use technology. Like remote control cars, you can change how fast they are going," says Octavio.

Ortman says it's been remarkable to see the boost in students' confidence.
"Sometimes the students are intimidated by trying new things, especially involving technology," says Ortman. 'This has really increased their confidence, it's increased their problem-solving skills. They work really well as a team when they are here."

Da'Shawn agrees that some of the activities, like the computer-building kits, seemed tough at the beginning.
"It was hard at first because I didn't understand it, but as we got into it and we built the outside structure, it got easier, because I started understanding more," says Da'Shawn.
(Photo: Octavio)
As the school year winds down, the students wrote thank-you notes to the Brain Exchange staff.
"Having a chance like this is a miracle, going to Brain Exchange is amazing," wrote 12-year-old Juan. "I appreciate what Brain Exchange has done for me. I've been enjoying more technology, and it gave me more confidence with different kinds of technology."
Ortman says she has seen the students grow from their experiences at the Brain Exchange.
"I think this an exciting opportunity. I know Liberty feels very blessed to have this partnership with AIM, and I think the knowledge we're received here has been invaluable, both the teachers and the students,"  says Ortman. "I think the kids are successful because they know everyone is here to teach them and to help them. They have really flourished."