Infotec 2018 offers array of educational, professional development opportunities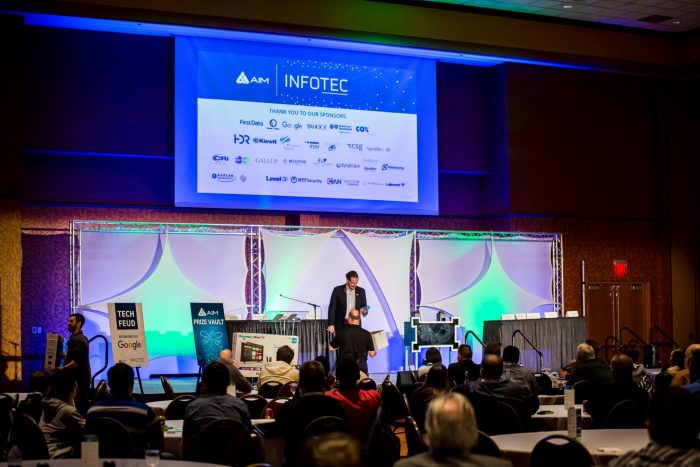 (Infotec 2017.)
OMAHA, NE – Hundreds of the region's most talented tech professionals will gather March 26, 27, and 28 for Infotec, the Silicon Prairie's premier annual business tech gathering.
This year's conference features several cutting-edge educational and training opportunities.
Security will be a big focus of the conference. The keynote speaker is retired Maj. Gen. Brett Williams, former Director of Operations at U.S. Cyber Command, and founder of IronNet CyberSecurity.
"A number of sessions are focused on security-related issues, from our opening keynote, to other breakout sessions around application development security, and other aspects of security that participants can get expert advice in trends and data," said AIM events director Dave Vankat, one of the conference organizers.
Project management, machine learning, Tableau
For participants looking to solidify their project management credentials, this year's conference offers two courses:  Certified ScrumMaster Training and Certified Agile Leader training.
In the Certified Agile Leader training, participants will develop awareness of Agile leadership thinking, focus, and behaviors.
The Certified ScrumMaster training offers the opportunity to master the Scrum framework and the underlying Agile principles, practices, techniques.
The Drag and Drop Machine learning workshop offers the chance to see a new, user-interface oriented approach to machine learning.
"Drag and drop machine learning is very new and upcoming technology that people can get their feet wet for what is machine learning, and how can it be used relative to large data sets and understand that technology that's now available," said Vankat. "It used to be more programming oriented, but is now having some more user interface available, and users don't have to have the same level of programming knowledge to manipulate the data."
Infotec 2018 is also offering a day-long workshop on Tableau, the widely-used data organization and visualization software. The workshop will be led by Tablea zen-master Ryan Sleeper, author of the Tableau Public Visualization of the Year (2015), and author of Practical Tableau.
Blockchain, cryptocurrency, marketing and more
Conference goers can also attend sessions offering guidance in the cyber frontiers of blockchain and cryptoeconomics.
"If you're not familiar with some of those things, it's a great way to get familiar with some of those kinds of technologies that are still really just on the bleeding edge of where they are going to go," said Vankat.
The heart of Infotec is the intersection of business and technology, and Vankat says there are multiple workshops covering that convergence.
"We have a number of things around the convergence of marketing and technology. There's a lot of overlap on how those two disciplines are converging together, things like search engine optimization, and some of the other data analytics kinds of tools that are out there," said Vankat.
"There's a lot of great training at Infotec that people can benefit from," he added.
Anyone interested in attending the conference is encouraged to register as soon as possible on the Infotec website. Funding may be available to cover conference costs for CONNECT Grant recipients. For more information, contact Heartland Workforce Solutions here, or by calling 402-444-4700.
For more information on sessions and speakers, visit the Infotec website.