Girls Who Code event encourages Omaha girls to explore a future in tech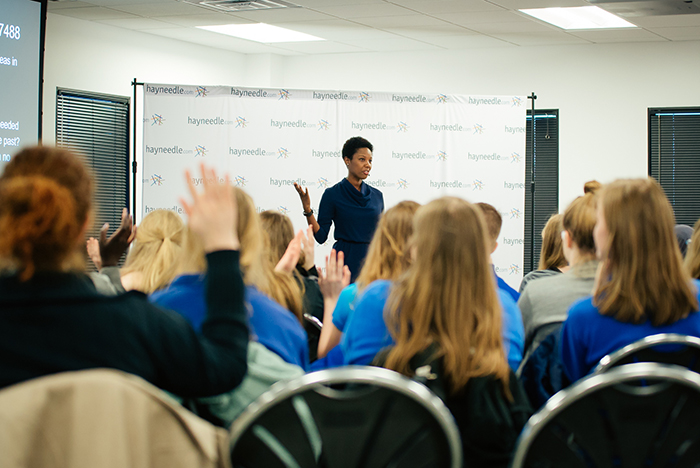 Hayneedle hosted their first ever Girls Who Code event on Friday, focused on encouraging young women within the local community to get involved with technology.
Over 60 girls from six Omaha-area high schools attended the event at Hayneedle's corporate headquarters in West Omaha.
Tech jobs are among the fastest growing in the country, yet women only make up 24% of the technology workforce. Girls Who Code works to support and increase the number of women in computer science, close the gender gap in technology, and change the image of what a programmer looks like and does.
LaShonna Dorsey, AIM's Vice President of Business Development and Tech Talent served as the event's keynote speaker. Dorsey is also a founding member of Girls Who Code in Omaha, and founded Interface: The Web School.
"Failure and mistakes are inevitable, so take the lessons and leave the rest," said Dorsey. "You are here for a reason, don't let missteps define you or take you off your path."
Dorsey said that at the beginning of her career, she was almost entirely surrounded by Caucasian men and saw little diversity. She wants to change the industry landscape for young women who are starting their careers.
"We found ways to collaborate […] but I didn't have peers to talk to," said Dorsey. "That's why it's really important to be supportive of each other."
Dorsey said that providing a more diverse future for the field of technology matters not only in terms of empowerment for women, but also in terms of community and economic development.
"STEM careers are some of the highest paying jobs out there, particularly web development," said Dorsey.
Dorsey told the group of young women that tech is hard and they may make mistakes and might even fail at times, but a mistake isn't the end of the road. Tech is a field all about solving problems, so there's always opportunities to learn and grow.
The Girls Who Code event also featured discussion panel led by Rachel Fox, the owner of Catapult Consulting Solutions and an instructor at Interface: The Web School, discussing the challenges and rewards women face in their tech careers. Panelists included:
Tara Nordquist – Director of Product & Customer Experience at Hayneedle, recognized by Walmart as a Leading Women in Technology
Eris Koleszar – Senior Developer at SkyVu Entertainment, previous instructor at Girls Who Code, current instructor for Mystery Code Society
Grace Erixon – High School Student at Omaha North, Intern at Gallup, winner of numerous IT awards
When asked what women need to do to stand out in the tech world, Nordquist said that women shouldn't be afraid to sell themselves and their skills.
"Go in and say, 'This is what I can bring to the table'," said Nordquist. "Have a portfolio of problems you've solved, apps you've developed, and output you've generated. […] Don't be bashful. Be proud, be confident, be inquisitive."
Koleszar said the best way for women to stand out in tech is the same for anyone, no matter their gender.
"Find opportunities to get plugged into something [whether that's classes, internship or events]," said Koleszar. "Going in and showing initiative is one of the best ways to get noticed by a company. […] Companies want people who don't need to be told what to do all the time."
Koleszar added that women should be aware of the culture their entering into, and the initiatives the company is taking to make sure they have equal representation and diversity.
"I don't want to sugar coat it. There's still a lot of sexism and sexist ideas about what women can do in the tech field," said Koleszar. "There are some really great companies that are doing [good things] out there and want you."