Five Tips for Avoiding a Post-Holiday Slump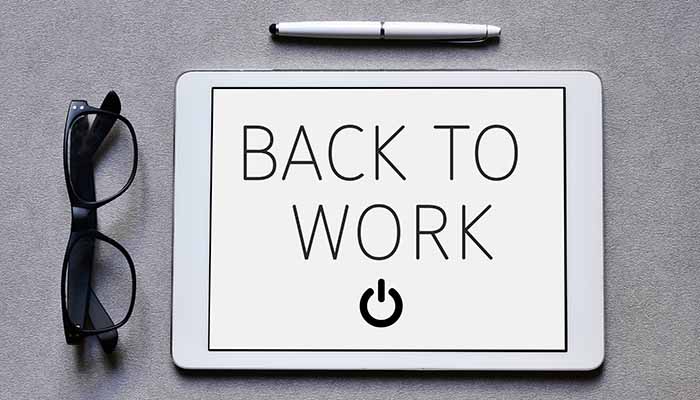 The eggnog cartons are empty, trees are set out on the curb, and dreidels are packed away. It's official — the holidays have come to an end.
As many of us get back to work, it can be difficult to get back into the swing of things — but it doesn't have to be.
In this article, we'll give you five tips for how to avoid a post-holiday slump at work.
Start With More Valuable Tasks First
It might be tempting to try to stack your easiest work first, but new research says that might not be best.
While getting a few easy tasks done might trick you into thinking you're being productive, that sense of accomplishment won't lask. At least one study has found that that avoiding difficult tasks may lower long-term productivity.
It may not be what you want to hear, but it's best to pour yourself a strong cup of coffee and hit the ground running. Get yourself going by diving right into that task you want to avoid, but know you shouldn't.
Once you're done, you'll feel an increased sense of accomplishment over completing a higher number of small, less meaningful tasks.
Clear Your Calendar
The ability to say no to a meeting or two might not be a luxury everyone can afford, but if you can, take advantage of it.
If you have the autonomy to clear part of your calendar when you start back at work after a holiday or vacation break, your future self will thank you.
Keep your calendar clear of meetings for just a single afternoon (or however long your manager will allow) so you can focus solely on getting back into the rhythm of work.
Set aside an hour in the morning to prioritize something you absolutely need to complete. The progress you make will help you get started on the right foot and help you ease back into the flow.
Set Realistic Goals
The enemy of productivity is a set of goals that don't align with what you can actually accomplish.
After all, clearing your calendar won't do you any good if you don't know what to do with that time.
Most of us are not great at setting goals that fit within the time we have available to accomplish them. But there's a way to get better at setting achievable goals—make them SMART.
The acronym stands for Specific, Measurable, Attainable, Realistic, and Time-bound. The more you can identify specifically how you will complete your tasks and assign a time value to them, the more tasks you'll complete.
Create a Plan For Your Time
Once you've set your goals and scheduled a block of focused time on your calendar, create a plan for how you're going to use that time.
If you have an hour, track your progress toward your tasks and set limits on yourself to make sure you don't waste time, or spend more time on a task than you need.
Give yourself 45 minutes for a task that's a larger time commitment, and then reserve 10 minutes to answer emails.
At the end of it all, don't forget to recharge. Give yourself a five minute break to breathe before your planned hour is up and you need to head into your next meeting.
Update Your Resume
Why is right now a good time to update your resume?  Because there's no time like the present.
Most people who make a New Year's Resolution will stick with them in the first few weeks before they lose sight of their goals. It's why the gym is packed during January before settling back to normal in February.
The new year brings a burst of excitement and possibility.
So whether you are currently job hunting or just looking to get your name out there for a move up the corporate ladder, use your New Year energy now before it's gone.
Update your resume and put yourself in position to land that perfect job before you lose that luster.
Make This Your Year of Possibility
A more productive year is waiting for you, and your goals can be more achievable when you start with a plan for getting back into the rhythm of work.
Could this year be the big one for your career?
Even if you aren't actively looking for a change now, upload your resume to Careerlink today. You can receive alerts for employers who match criteria you set for what you want out of your ideal workplace.