Creighton University offers job search tips for students graduating in the digital age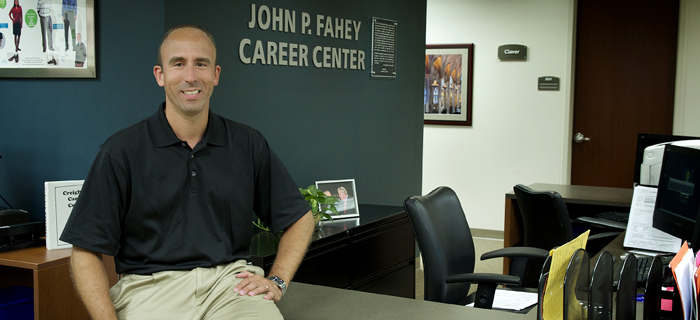 Jeremy Fisher, director of the John P. Fahey Career Center
Approximately 800 Creighton University students graduated earlier this month.
The university's John P. Fahey Career Center schedules approximately 2,000 appointments each year to assist students and alumni in exploring and preparing for job opportunities.
In addition to one-on-one appointments with students, the John P. Fahey Career Center facilitates mock interviews, job preparation and etiquette sessions, job search strategy discussions, employer visits, career fairs, networking events and conferences.
According to recent findings of the career center's new graduate survey, 99 percent of Creighton students report that within the first six months of earning their undergraduate degrees they:
Start careers – 61 percent
Are accepted into graduate/professional schools – 33 percent
Begin service programs – 5 percent
Jeremy Fisher, director of the John P. Fahey Career Center, said finding a job has never been easier in the digital age, however the strategies used by job seekers and employers during the hiring process have changed dramatically.
"Finding jobs is easier, but it's easier for everyone," said Fischer. "There is more competition for highly-coveted positions in companies because those positions are readily available on multiple job search sites and job search engines."
Fischer said that employers are getting more and more applications for their positions, so it's important for applicants to find ways to stand out and be knowledgeable about the companies their apply to.
"Researching the company is the first thing [a potential applicant should do]," said Fischer. "Not just preparing for the interview, but researching the company to make sure it is potentially a company that you could see yourself working at."
Fischers said it can sometimes be hard to read a company based solely off a job description. Things like digging into the company's social media for insight into their culture, mission and values is helpful, as well as seeing if there are any contacts the applicant might know personally or professionally.
"The hard part for employers that I hear often is they're having a hard time going through all the applications to find the right fit or find the right talent," said Fischer. "It's still true to this day that internal referrals are still the number one way people get interviews."
Fisher provided the following advice for students or graduates seeking employment:
Non-traditional interview tactics
Video, phone and group interviews are becoming more popular, especially among larger companies interviewing several candidates. Find a quiet space and practice interviews ahead of time to feel comfortable utilizing the technology. While group interviews can be nerve-racking, listen closely to interviewers and other candidates since this interview structure is designed to evaluate both a candidate's answers and how they interact with a team of colleagues.
Networking is key
Receiving a referral or recommendation is the number one way to secure a job interview. Developing mutually beneficial relationships is important, and there are many different ways and mediums to network. When building a network, a candidate should consider their strengths and current network and then engage in both informal and formal networking opportunities. Social media, conferences, meetings, alumni events, panel discussions, online databases and getting to know faculty and staff are just a few suggestions that can pay off.
The power of social media
Signing up for social media accounts is encouraged but beware of what you're posting so that you are not hurting your image. LinkedIn is great for marketing yourself and staying connected in the professional world. Social media also is a great tool to learn more about companies and their cultures.
Google yourself
Smaller companies and hiring managers with larger companies often research job candidates once they receive a résumé. A good practice before applying for a job is to enter your name in Google to see what potential employers may read or see. Creighton's career center employees can assist students with this process and provide feedback on how they can clean up their online image.
Interview preparation
You never know exactly what an employer is going to ask during an interview. Interviewees could field questions about their skills and technical experience or they could be subject to personality and behavior-based questions to assist the employer in determining the type of person they are and if they would fit into the company's work environment. The more knowledgeable a job seeker is about the position and the organization, the better they will be able to communicate to the interviewer how they will contribute to the organization's goals.
Don't Focus on Salary
Ask good questions in an interview but refrain from asking questions regarding salary and benefits in an initial interview. Interviewees should focus on how they will fit into the culture of the organization and what they can bring to the position.