Appsky expands their dev shop while keeping a local focus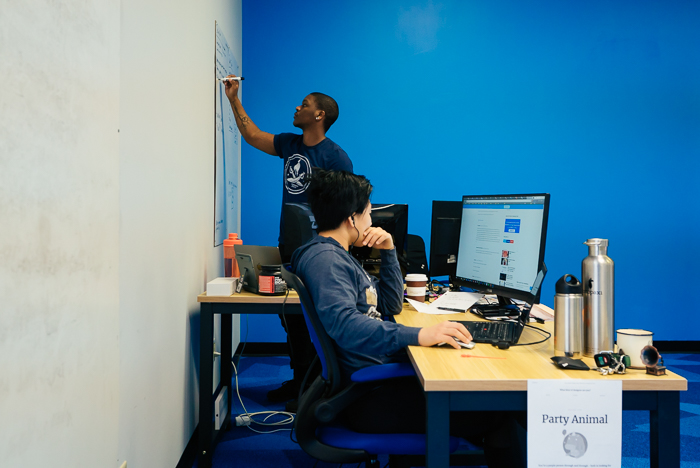 A lot has changed for Appsky in the last six months––including their name.
Formerly known as Appsky Labs, the Omaha-based development company has also moved into a larger office to accommodate their expanding team, launched a rebranded website, focused their service offerings, and further positioned themselves as a partner for  affordable software solutions for community initiatives.
Appsky founder Tayor Korensky said it's all been done for their clients.
"We really try to help them through their business model, not just developing their product," said Korensky. "We want to help guide them to success at the end of the day, not just deliver a piece of software."
Korensky and his team of seven on-staff design professionals, developers and consultants believe they take a more personalized approach to project management than large corporations.
That take on client experience has led them down a path of rapid success.
"If everything goes as planned, we're looking at hiring another three people in the next six months," said Korensky.
Korensky said Appsky is staffed with graduates of local colleges like UNO and Metro, as well as new tech professionals from Interface: The Web School and grant recipients.
"So far everyone we've hired has been junior by title, some have more experience than others, of course," said Korensky. "We have one [Interface] graduate on our team, we have one on the Connect Grant, and pretty much everyone has been fresh out of local institutions."
Korensky takes pride in hiring locally educated, junior developers.
"It's cool to see people building their skills and taking on projects, to the point where we have projects go through now that I don't even interact with, which is amazing."
Keeping it local is a major part of Appsky's focus, even when it comes to their clients and projects.
"I focus a lot of my sales and networking effort on Omaha," said Korensky. "Pretty much all of our business has been from the Omaha area and we think that there's still plenty of work here so why would we try and go get West Coast projects?"
Local initiatives that Appsky has worked on include Highlander, the Great Plains Black History Museum in partnership with AIM, and Chariots of Hope, a nonprofit that helps get people cars and rides who generally can't afford them.
"We're just about to finish up the Great Plains Black History Museum website," said Korensky. "That was our first partner project, and we're starting to work on an app for Chariots for Hope. […] The app will generally be a scheduler for Chariots for Hope to be able to go pick people up and assign drivers. Eventually they want to be able to use it to call for an emergency ride."
Appsky is also finishing up an app for the Omaha Food Truck Association that will allow users to locate all the food trucks in Omaha.
"Ideally this is the direction we want to go, very community focused projects that have impact," said Korensky. "Every project we do has an impact on our side as well, by training junior devs, working on community initiatives and sponsoring events."