AIM Institute Helps Eighth Graders Learn to Code in an Hour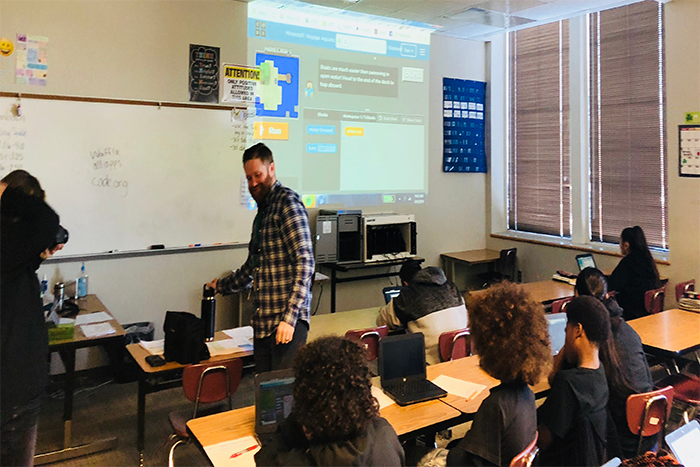 Over 150 eighth-graders at Omaha's Monroe Middle School learned the fundamentals of coding Monday for the international Hour of Code. Hour of Code is a one-hour introduction to computer science designed to prove that anyone can learn the basics of coding. Shane Barsell and Erin Lassiter of AIM Institute guided students in Paula Limbach's eighth-grade computer apps class through a code-instruction game called Minecraft Voyage Aquatic.
In Minecraft, users drag blocks of commands from a toolbox into a workspace to control LEGO-like figures through a simple cartoon world. Students learn the logic behind the inner workings of software and receive helpful tips and encouragement along the way. (If their character drowns due to an error in the code, for example, the game will display the message "Something's not right yet. Keep trying!" Coding requires patience, after all.)
A Nice Break from Powerpoint
"Usually the kids enjoy Hour of Code a lot," Limbach said. "It's a nice little break from doing Word or Excel or Powerpoint. Even now, a kid just said, 'Oh, I'm gonna want to do this later.'"
During her first-period class, Limbach's students tried to see who could finish first and win a pair of earphones. They were also free to explore the different games and tutorials offered on the Hour of Code website, some of which involved writing out actual code.
Jaden, for instance, chose to go the harder route. Because he was already familiar with the basics of HTML and CSS—two coding languages that make up the building blocks for websites—Jaden chose a game that required writing Javascript and Python. He's been studying with a friend recently who knows five programming languages. If there were coding classes at school, he said, he'd definitely take them.
"It's a really good skill to have," Jaden said. "I'm just trying to get a jump on the future."
Clad in a Vans hoodie and skateboard shoes, Jaden wants to keep learning how to code so he can build a website to host his music, graphic design, and business ideas. He spends most of his time outside of school playing video games and making music on his Studio One software. While he isn't sure exactly what he wants to focus on, he said his aunt told him he should put himself out there and try as many different things as possible. That way, he'll eventually figure out what to do. (Can confirm: this is good advice. Listen to your aunts, kids.)
Jaden became interesting in coding through playing video games and making his own music. "I'll take samples from Disney movies and make my own beats with them," Jaden said. "I'll play video games and be better than like half of the people who do it professionally." He figures if he can get good at programming now, he'll be great one day—maybe even make his own games.
How to Get Involved in Hour of Code
Hour of Code is available year-round in over 45 languages and accessible to anyone. If you want to check it out for yourself, visit the Hour of Code website.