AIM brings tech education to students at second annual Careerockit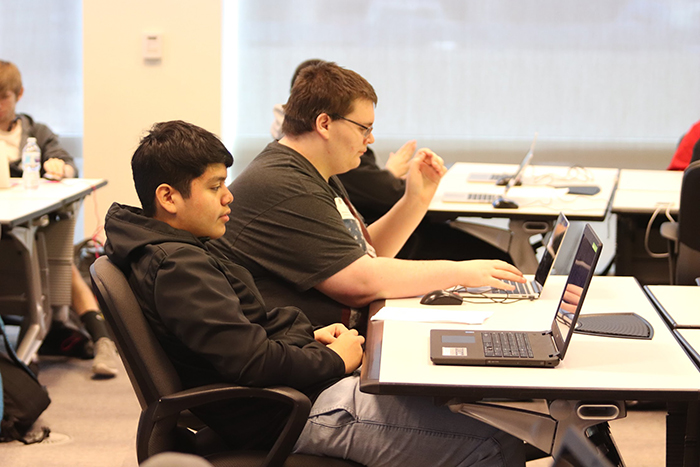 Careerockit, Nebraska and Iowa's largest business/student collaborative learning initiative, made its return on February 12. The weeklong event provided more than 18,000 unique student experiences across more than 20 school districts, multiple universities and 140 organizations in six counties.
The no-cost program of the Greater Omaha Chamber pairs elementary through post-secondary students seeking engagement and information with regional businesses and nonprofits. The goal: to create career interest, grow the area's talent pipeline and connect organizations with future employees.
For the second year in a row, AIM participated in Careerockit by facilitating tech learning modules hosted at Union Pacific Railroad. Approximately 25 AIM employees volunteered nearly 100 hours over the course of the week.
Youth explored technology and workforce readiness skills by working on authentic, real-life projects reflective of career skills needed at Union Pacific. The Engineers Who Code learning modules were "hands on/minds open" in design and allowed students to interact with career professionals.
During the Build a Web Page session, high school students learned about tech career opportunities in Nebraska, built their own HTML web pages, and found out about additional web development learning resources.
The experience allowed students to see and feel the culture of UPRR and allowed AIM to engage with other community partners such as OPS and Boys & Girls Club of the Midlands.
"An effort of this scale is only possible with countless partners and supporters," said Patricia Mayorga, manager, talent, Greater Omaha Chamber. "We are extremely grateful to all the businesses and nonprofits that are participating and to our school districts at all levels from superintendents, to principals, teachers, and of course students. Everyone's contributions have added up to this great and massive initiative called Careerockit––thank you."